A new study led by scientist Andrew Novak was published last November in the prestigious Journal of Medicinal Chemistry. Under the title Discovery and Optimization of Potent and Orally Available CTP Synthetase Inhibitors for Use in Treatment of Diseases Driven by Aberrant Immune Cell Proliferation, a new drug against malignant cells was found using methods such as High Throughput Screening (HTS) and Caco-2 permeability assay with CacoReady plates.
The challenge of nucleotide synthetase inhibitor drugs
The synthesis of nucleic acids, phospholipids and sialylated proteins by nucleotides is a key point in human cellular metabolism and can be achieved by recycling either anterior nucleic or de novo patwhway. However, a significant rate of this process has been shown to result in a malignant cell, specifically, this ratio has been found in the pyrimidine cytidine 5'triphosphate (CTP) synthesis.
Considering this relationship, the therapeutic approach in recent years had been based on finding drugs that inhibit de novo pyrimidine synthesis. However, previous compounds have been discarded due to their toxicity and low efficiency.
New approach to hit the target
This particular article aimed to find a drug target for CTPS1, one of the enzymes responsible for synthesizing CTP at the end of the metabolic pathway and which plays a critical role in the proliferation of lymphoid cells. The researchers also considered it appropriate for the treatment to be oral.
To do so, they did a high throughput screening where more than 240K molecules were tested. They also performed a permeability study of the selected drugs with our CacoReady plates and a selectivity assay using the mass spectrometer. Finally, they assessed the chosen compound in vivo.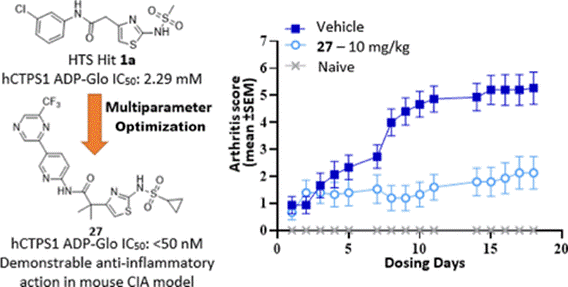 Conclusions of the article
After all steps, the researchers identified a new series of acetamides as potent CTPS1 inhibitors, since the compound showed promising in vivo anti-inflammatory activity in a mouse model. A further series optimization is in progress.
Read full article: Discovery and Optimization of Potent and Orally Available CTP Synthetase Inhibitors for Use in Treatment of Diseases Driven by Aberrant Immune Cell Proliferation