Generally speaking, toxicity testing of new molecular entities is essential in drug development in order to circumvent the withdrawal of drugs from the market due to adverse drug reactions and toxic effects. In vitro colorimetric methods are traditionally used in cell toxicology.
Are colorimetric in vitro assays sensitive enough for evaluating drug toxicity?
Unfortunately, colorimetric tests evaluate late-stage indicators such as apoptosis and membrane integritythat are more likely to disregard toxicities that induce adverse but non-lethal effects. As an alternative to these assays, we offer our CacoReady plates for assessing drug-associated gastrointestinal side effects. Evaluation of the transepithelial electrical resistance (TEER) and the Lucifer Yellow (LY) paracellular flux, two parameters used as early-stage indicators of cell damage, helps to better predict and stratify (non-toxic, moderately toxic and highly toxic) the intestinal toxicity of drugs.
Experimental procedure
Test items
Quinidine, verapamil and gemfibrozil previously described as diarrhea-causing side effects with a known grade of toxicity incidence and nadolol their non-toxic counterpart, were used as reference compounds of drug intestinal toxicity.
Cellular models
Caco-2 cells seeded in 96 well plates and those seeded in 96-well traswell plates (CacoReady®) were exposed to increasing concentrations of the compounds for a 24-h period.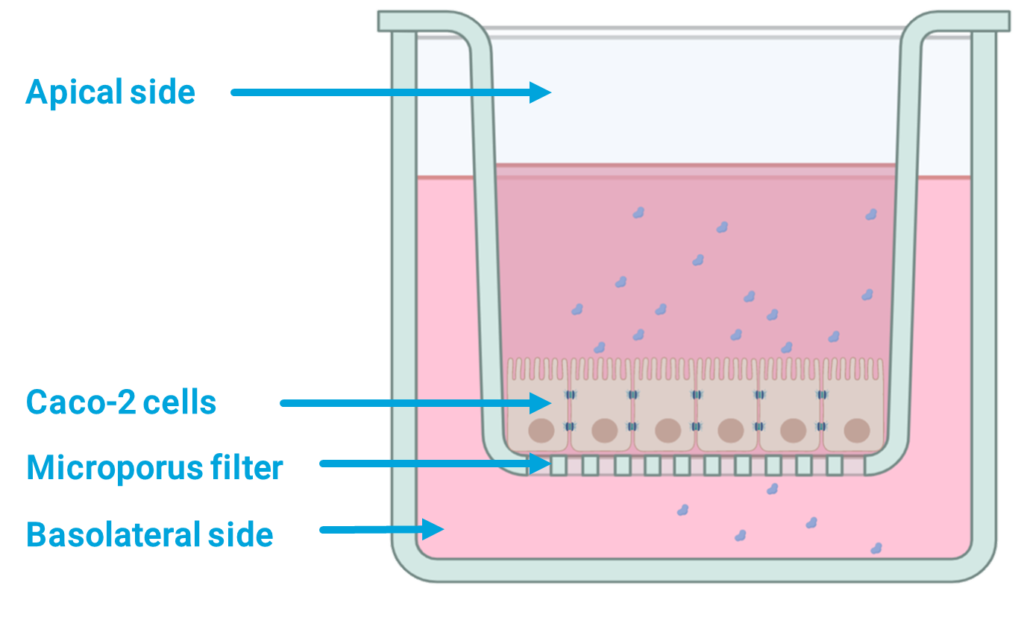 Colorimetric cell viability assay
Alamar Blue was the colorimetric test used to assay compounds toxicity in Caco-2 cells plated in the 96-well plate. After incubation the reagent was added to the cells following manufacturer's instructions to detect metabolically active cells.
Caco-2 cell barrier integrity in CacoReady® plate
TEER and LY paracellular flux were the parameters used to measure cell barrier integrity in CacoReady® 96-well plate following the procedure described in the permeability assay protocol.
| | |
| --- | --- |
| Acceptance criterion | CacoReady® 96w |
| TEER | 500 Ω·cm2 |
| LY Paracellular Flux | ≤ 0.7% |
Results
Only gemfibrozil was found cytotoxic in both cellular models, although cell toxicity was detected at a lower concentration (100 µM vs 500 µM) when the cell barrier integrity was evaluated as the endpoint.
Verapamil and quinidine described as moderate toxicants were not detected as cytotoxic when assayed with the colorimetric test but by quantifying the TEER and LY paracellular flux. Nadolol used as a positive control of cell viability was not found cytotoxic in either case.
These results are part of a study conducted by ReadyCell's R&D department and published in an application note.

Conclusion
Cell barrier integrity, an early indicator of intestinal cytotoxicity, predicts adverse drug effects better than indicators targeting metabolically active cells as an endpoint. They provide a more detailed understanding of the mechanisms underlying toxic effects and enable the drug stratification.
Learn more
To learn more about the products used in cytotoxicity testing you can consult the following web page.
In case it is required more specific information related to Caco-2 cytotoxicity studies and CacoReady kits, you can contact us through our form or sending an email at reagents@readycell.com
Application notes of the cytoxicity study will be available for download soon.