R&D Pipeline
ReadyCell supports the pharmacological evaluation of drug candidates to minimize costs, facilitates lead optimization, and speeds up new drug development.
Developing innovative in vitro tools for preclinical stages, main efflux and uptake transporters, and toxicity-metabolism.
ReadyCell is fully committed to innovation. We are continuously expanding our product portfolio based on the latest drug transporter science results, the pharmaceutical industry's needs, and suggestions of the various regulatory agencies. Our mission is to continue to develop reliable, high quality and practical tools that optimize the whole drug discovery process.
Ready-to-use Hepatocytes

Ready-to-use Cardiomyocytes
PreadyTake MATE2-K

PreadyTake OAT1

PreadyTake OAT3
PreadyPort OAT1/BCRP

PreadyTake OATP1B1
Are you interested in developing innovative in vitro systems?
ReadyCell Scientists are available to discuss tailored projects indicated for drug discovery and biomedical research.
ReadyCell is involved in several research projects with public and private organizations and is always keen to examine new scientific collaborations.

CIEN 2019 – SEGURAM
SEGURAM is a consortium of seven companies whose main objective is to research and develop new sustainable strategies along the meat industry's entire value chain to increase productivity and food security while reducing the use of antibiotics.
ReadyCell is developing new in vitro gut-on-a-chip models to evaluate the efficacy of active ingredients and bioavailability of nutrients.

3DLIVER project's main objective is to develop new in vitro 3D tools derived from the human liver, relevant for the discovery and preclinical phases of drug development.
ReadyCell S.L., as the project coordinator, will help transform the Innovative Human-Derived 3D Liver Models into ready-to-use in vitro tools that contribute to optimize the overall drug discovery process.

MISIONES 2020 – BIOPRINTIA
BioPrintIA is developing innovative biotechnology of tailor-designed bioimplants based

on artificial intelligence and 3D bio-printing. The medical device will be indicated for osteoarticular tissue transplants, significantly reducing degenerative knee symptomatology and considerably improving the patient's quality of life.
ReadyCell's expertise will help to develop a cell-based in vitro system, which artificially reproduces physiological osteoarticular conditions.

The MPS-LOC project aims to develop microphysiological systems based on liver-on-chip for drug discovery and testing. By utilizing systems that converge microfluidics, 3D printing, human-derived liver cells and liver derived bioinks, the project seeks to substitute the use of animal models and provide high predictive value in preclinical drug development.
ReadyCell, as the industry partner, will lead the validation of the liver-on-chip devices in order to obtain the final ready-to-use liver-on-chip product.

StretchBio aims to boost and transform biomedical research and clinical diagnosis through the development of a novel compact device for in vitro continuous two-dimensional mechanical stress monitoring of living tissues for drug screening purposes in personalized cancer medicine.
ReadyCell will command the commercialization possibilities of the StretchBio project thanks to its leading position and experience in the biomedical field and its network of distribution partners worldwide.
Externalizing your Cell Culture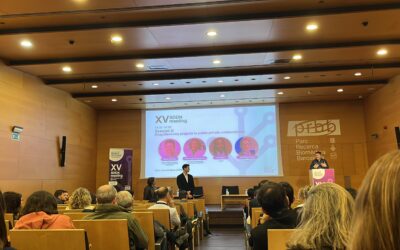 ReadyCell is pleased to participate in the XV meeting of the Spanish Drug Discovery Network (SDDN) at the Parc de Recerca Biomèdica de Barcelona (PRBB) on November 20th and 21st, 2023.