On May 15-17, the 22nd Barrier- and Transporter- days took place in Bad Herrenalb, Germany. At the event, various speakers from the national and international scene presented the latest developments in the field. Among them, Jonatan Cucala, R&D researcher at ReadyCell, presented a poster entitled "PreadyTake, an in vitro ready-to-use cell-based model to evaluate potential drug-transporter interactions."
Assess OATP1B3- MATE1- and OCT2- substrates, inhibitors and drug-transporter interacions
Among the many transporters, special attention has been given to the Solute Carrier Transporter (SLC) family because of their role in the renal and hepatic elimination of drugs. Since drug transporter proteins may compromise drug permeability across body barriers, understanding the role of these transporters is crucial.
PreadyTake are a family of ready-to-use HEK293 cell-based models individually expressing hepatic (OATP1B3) and renal (MATE1, OCT2) transporters that emerge as a valuable tool to evaluate new molecular entities in vitro.
In the 22nd Barrier- and Transporter- days, Jonatan introduced this new approach and addressed the need to better understand the impact they have on drug disposition.
Data showed during the event indicated that PreadyTake are compliant and functional in vitro tools to screen OATP1B3, OCT2, and MATE1-mediated drug-transporter interactions and induced drug hepatic/renal toxicity at the early stages of drug development.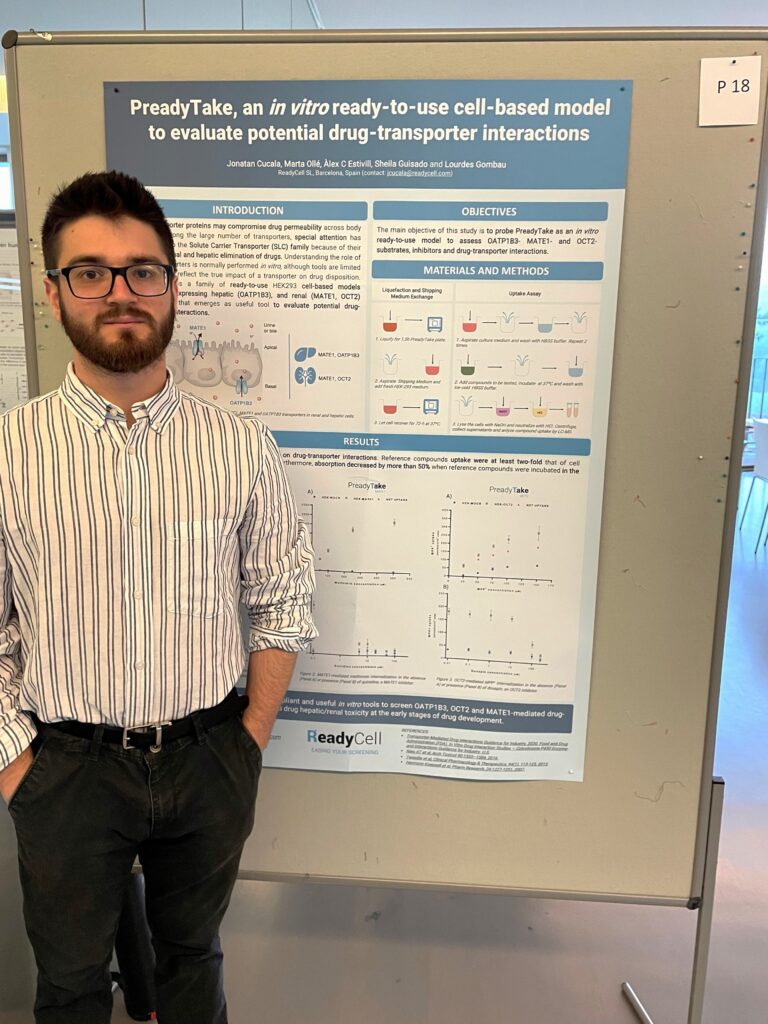 About the meeting
The subjects discussed in this conference included membrane transport proteins in barrier organs, drug transport, and drug delivery across biological membranes. Screening models such as MCDK, Caco-2 cells, blood-brain barrier cells, skin cells, hepatocytes, and others, as well as the role of phospholipids in drug delivery, were also addressed.
Some of the highlights included the use of liposomes as cell models for compound testing, hiPS-based blood-brain barrier modeling for pharmaceutical applications, and zebrafish larvae as an in vivo model for neurotoxicity assessment were also discussed. Other topics included target repurposing strategies, transporter assays, blood-brain barrier targeting immunoliposomes, and the oral delivery of therapeutics using liposomal systems.
Overall, the event provided valuable insights into drug transport mechanisms, formulation strategies, and novel approaches for overcoming therapeutic challenges.