On last 14th of June, our colleagues Maria Riba and Lourdes Gombau attended the last edition of the BTS Discovery Toxicology 2023 in Alderley Park, UK. There, renowned experts in the field of drug discovery and development discussed the crucial role of toxicology in mitigating safety risks and ensuring the success of drug discovery processes.
During the event, our representatives presented the poster "Assess acute toxicity in the gastrointestinal tract with CacoReady, an in vitro cell-based model", an in-house study that shows how to accurately predict and stratify intestinal toxicity using cutting-edge methods like TEER and LY paracellular flux.
About the event
The BTS Discovery Toxicology 2023 event attracted diverse participants, including early-stage researchers, industrial scientists, and executive-level managers. The intention was to create an inclusive forum that encouraged the exchange of knowledge and experience, fostering collaboration and promoting the latest advancements in the Discovery and Development of Toxicology. It also served as a platform to explore the latest advancements in the novel in vitro and in silico methods and the understanding of underlying mechanisms and biomarkers
The meeting also focused on new modalities in drug discovery and the strategies employed to support and enhance early preclinical safety assessment. Attendees presented innovative approaches that enable more efficient and reliable processes, driving successful outcomes.
ReadyCell's new approach: toxicity stratification by membrane resistance studies
Lourdes Gombau, head of the R&D Department, and Maria Riba, Business Development Manager, presented in the UK the last scientific article of the company, shedding light on the topic of compound intestinal toxicity.
Traditionally, cytotoxicity is studied using undifferentiated human colon adenocarcinoma-derived cells (Caco-2) grown in 96-well microplates, where only late endpoints can be observed to determine cellular viability. However, a promising alternative using CacoReady-transwell has emerged. This new approach enables the evaluation of early-stage indicators of cell barrier integrity through indicators that have the potential to provide a more accurate prediction of toxicity compared to conventional tests.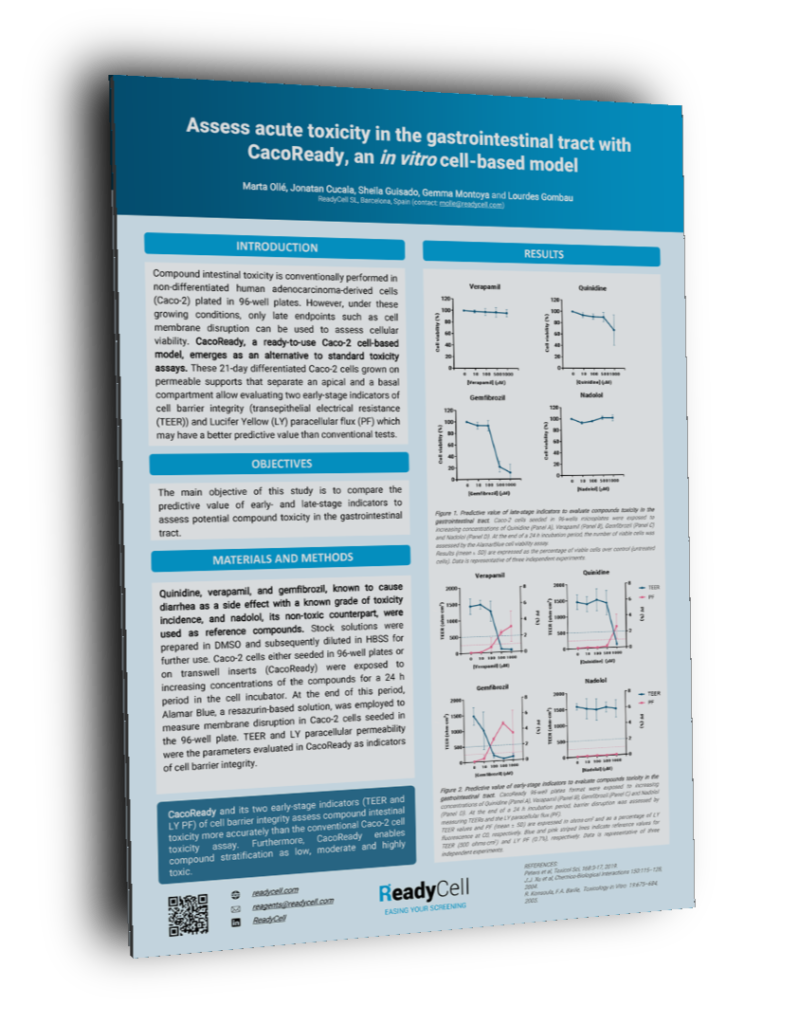 Strengthening partnerships with key players in the English-speaking sector
The visit to the United Kingdom was also an opportunity to network with key players in the pharma sector in the United Kingdom. In addition to the event, our BD had the opportunity to meet in person with different customers and distributors in the UK to improve our service and plan future actions for the benefit of all our customers.